We were thrilled and honored to be representing the Northeastern Region of The U.S. for The Wacken Battle USA 2022. The National Round was being held at The Viper Room on the Sunset Strip in Hollywood, California.
The winner of this round would go on to Germany to compete at Wacken. Just Going to Hollywood and performing on the Sunset Strip was a dream come true. It was so exciting!! We had heard so much about it and many of our favorite 80's Hard Rock and Metal icons got their start right there on Sunset Blvd.
Before we even got to Hollywood there was such a buzz about us winning the Regional. It felt good to finally have some vindication for all of our effort through the years. We were written about by And Grey in The Warren Tribune and Youngstown Vindicator and we were even interviewed On air at Channel 21 WFMJ.
The Stage of Dreams Interview on WFMJ
The best part was all of the messages and phone calls from people sending there support to us and wishing us victory. 
The entire Hollywood experience was quite awesome and I could be here writing a book about it though getting to the main point here, we were ready for this battle. Our set was tight and all the covid restrictions were lifted. It was time to rock.
When we arrived at the Viper Room, there were already a few bands waiting outside on the side walk. They all seemed cool and gave us some insight on the venue and what to expect. I was a bit surprised that we were staging all of our stuff on the side walk outside but it is California and it rarely rains there. We stood outside for quite a while and Eric The guy in charge of The Battle had a few words with the club about it. It was nice to see someone on the bands' side. Once we were finally let inside I was a bit shocked at how small the room was but it did have a really cool vibe about it.
Our time slot was 11 pm pst. So our people back home would have had to stay up pretty late to catch our set. Thankfully we had 20 that made the trip with us. We can't thank these Family members and friends enough for making this trip and cheering us on.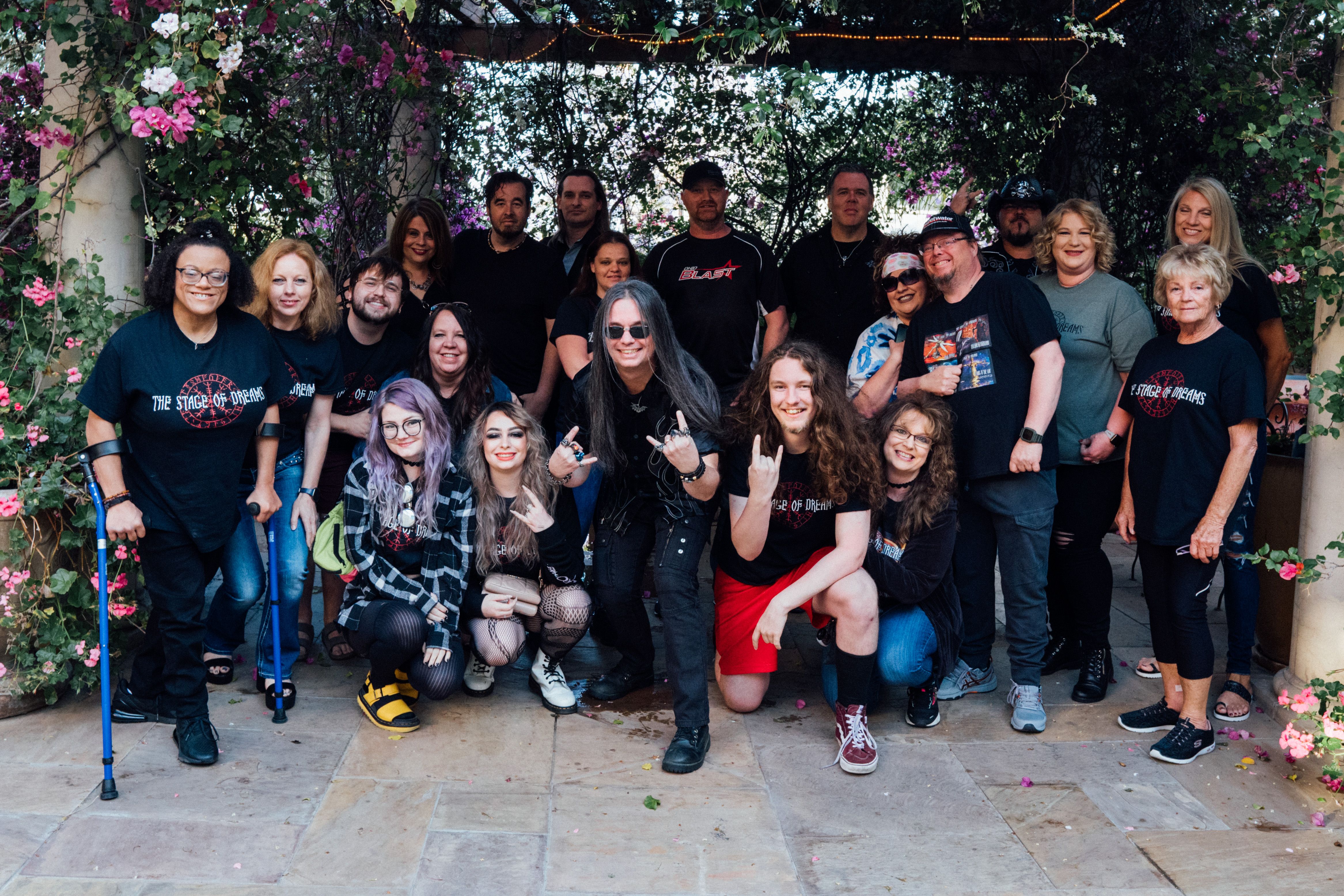 The song playing right before our intro music started was  Rock'n is Ma Business by Alabama Thunderpussy. I had heard this song before but now it will always have special meaning because at that moment it was perfect.
Waiting for the curtain to part seemed like forever. When it did we launched into Strong is The Way and the crowd was rocking hard. In between songs I gave my best Stage Master dialogue possible and I have to thank my son Caden for reviewing everything with me and even giving me some ideas. Next We launched into I am Vampire then Metal Rebellion and Dragonfly. Lastly we finished with In The Killing Backwoods and I'm still kicking myself for not pulling out the lantern during the guitar solo. I got a special suitcase just for this lantern, flew all the way across the country and failed to pull it out of my gig bag,lol.  In any case I feel we did a great job and it brought a smile to my face when our crowd was chanting Stage of Dreams!! Stage of Dreams!! 
Obviously we didn't win and go to Germany but we are grateful to have been apart of this competition.