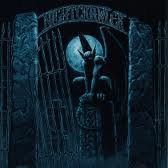 Nightcrawler was a band with a dark side vibe. Heavily influenced by Black Sabbath.
The one thing we did together outside of band practice was attend Heavy Metal Concerts. If Black Sabbath, Iron Maiden, Judas Priest or Dio came to town we were there.
In the nineties Heavy Metal was pushed far underground but that didn't stop the best bands and the true at heart from keeping it alive in The United States. It did however make it difficult to keep a band like Nightcrawler together.
I joined as their bass player at the beginning of the Grunge era. I didn't really have a lot of experience. I did play in a couple of cover bands and I had tons of lyrics and a few original songs that I had wrote though I knew from the start that these guys were on another level. I wasn't a shoe in for this gig that's for sure. I kind of just kept showing up for practice until the spot became mine. 
The commitment by Cat, Hanzel and myself was unwavering. We rehearsed anywhere from 3 to 5 nights a week for many years. If we had a show then it was 5 nights for sure. I think a lot of people wouldn't have been able to handle all of this repetition with very little reward as we did. We took great pride in playing these songs to perfection. Unfortunately this band never had a fully committed vocalist the entire 7 years I was in this band. It was painful and frustrating mentally but with grunge and the terrible trendy culture of the United States what the Hell else were we to do. We loved playing metal and even without vocals it felt good to perform and even create some new songs.
As I said previously I joined the band when grunge was taking off. Right at this time Nightcrawler was finishing up the 2 song Lost Messiah Demo. All the parts were done except a few vocal parts and mixing. They had taken the feedback they had received from Metal Blade and the famous producer Beau Hill (I believe that was the name on the letter CAT showed me). Taking the band more in the direction of their song "Eternal Call" which appeared on Metal Blades "Metal Massacre Volume Eleven". In my opinion "Lost Messiah" is Nightcrawler's best song. "When Darkness Falls" is one of my favorites as well. Originally Darkness Falls was going to be called Sarah which Hanzel often called it at rehearsal. We sent the demo out to various labels, college radio and a few places for review. The reception was freaking frigid and one awfully undeserving review from a true wanker at the U.S. Rocker compared the band to dead worms on the sidewalk. I hope the trendy guy that wrote that review chokes on a mouthful of dead worms.
On a brighter note the band was receiving fan mail from over seas. Occasionally fans from places like Germany, Greece and Italy would send letters stating how much they loved Nightcrawler's music and they couldn't wait to hear more. It wasn't like there were hundreds of people sending fan mail but at one point I took the stack of about fifty letters and wrote back to everyone of them thanking them for their support and promising new music was on the way. 
New music from Nightcrawler wasn't something that came easy. Not having a fully committed vocalist made this a bit tough, though when I first joined the band we wrote 4 songs and Tommy Thompson actually made it to enough rehearsals for us to play a handful of gigs. Our first show was on April Fools day opening for a Black Sabbath Tribute band at a place called The Cleveland Cafe'. It was a great show and totally gave me the wrong impression as to how the future was going to unfold. 
It was 1995 and we started recording the four songs I was part of writing with the band, Revelation Genocide, No Faith In Tomorrow, Walk In The Dark, and War Torn. When it came time for Tommy to do his part in the studio it was obvious he hadn't been rehearsing and it became apparent that he had to go. So the search was on to find a new vocalist. We must have tried out 40 different singers. Almost all of them were terrible. It was like American Idol before American Idol was even thought of. Nightcrawler Idol,lol.
Now I was a bass player then but after the experience of trying out so many sucky vocalist, it inspired me to take singing lessons. I took these lessons and learned just about every Nightcrawler song. At that point maybe I wasn't good enough yet because CAT and Hanzel wouldn't go for it. They said it took them 2 years to find me on bass so that was that. We practiced for a few years without a vocalist. Eventually a great vocalist did come along to help us finish the four songs we had recorded in the studio. His name was Jim Hamar. Now if Jim would have committed %100 to Nightcrawler I am sure we would have got signed but at that time it just wasn't the case. I am glad he helped us as much as he did in 1998. We got the 4 song CD done and I felt like we had just climbed Mount Everest but we lost a couple of guys along the way. First Tommy and then Mike Hanzel. Mike had left our band to tour with PRO-PAIN and eventually moved to another state. 
One highlight after the release of the Nightcrawler CD was that we got to perform at Cleveland Metal '99. One of my friends from New Castle,PA, Bill Winkler came out and did a great job on the drums.  This was pretty much it though. Everything from this point was down hill for me as far as the band went. I hung with Cat until 2001.  I had moved back to PA and practices were few and far between not because I couldn't make it but rather we just didn't have the personnel.
It would be several years before I would see Nightcrawler again. I believe it was 2005 at the Brave Words and Bloody Knuckles Concert. When I heard they were a part of this show I had to be there. It was so great to see CAT and Jim again. I was glad to catch up with CAT and I was truly happy he had kept the band going and they sounded AMAZING.

Hey Look at me!! I'm the guy second from the right playing the Rickenbacker 4001.