So far we haven't played nearly as many shows as we'd like but when Edward Be Thy Name makes an appearance it's an exciting event. Some Iron Maiden fans will drive for hours and book hotels to come to our shows. Knowing this cranks up the pressure a bit,lol. I mean we wouldn't want to ruin anyone's Saturday Night.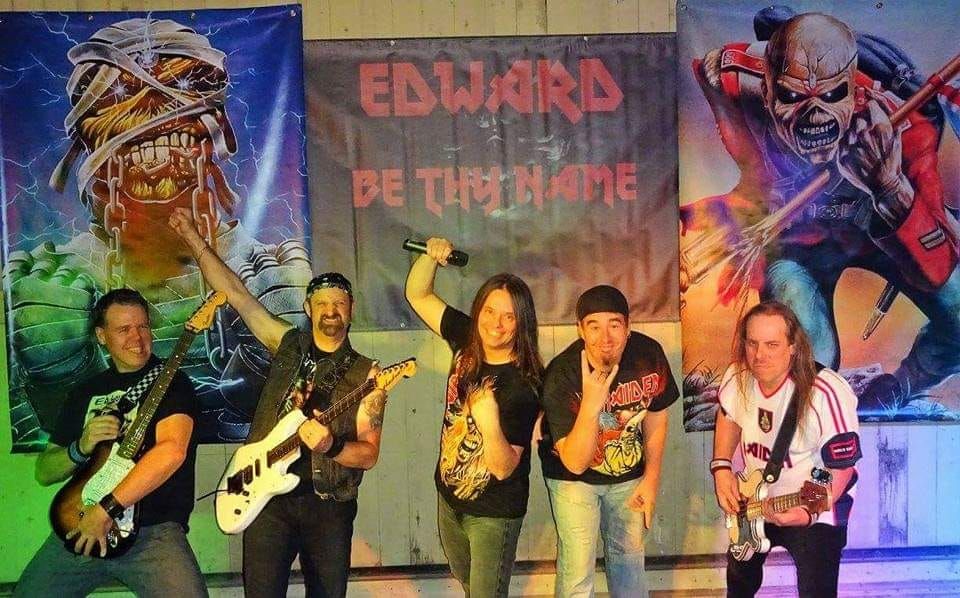 Going back before Edward Be Thy Name Started I had never really thought about forming a tribute of any kind. So what triggered the flame for the idea of singing for an Iron Maiden tribute? First off Iron Maiden is my favorite Metal Band. Secondly when my cover band Haymaker would perform Run To The Hills people would totally freak out. Some well respected musicians would occasionally suggest the idea of forming an Iron Maiden Tribute. It didn't take much convincing on my part to give it a shot.
The first attempt at forming an Iron Maiden Tribute failed. I put adds up in various places and I didn't get much of a response. I got more of a negative response than anything. I received messages like "No club owner in their right mind will book you" and "Pittsburgh already has a tribute so you are not needed." 
Of course I didn't respond to these idiots. I kept searching and found a group of guys up around the Cleveland,Ohio Area. It was about a two hour drive for me to get there but I made the trip a few times. These guys were really cool and I thought we sounded pretty damn good but there were a lot of scheduling conflicts and we couldn't get together as much as needed to do it right. So I kind of shelved the Iron Maiden Tribute Idea. That is until several years later when my friend Darren who happens to be one the best guitarist I've ever known, asked me if I'd be interested in forming a tribute to Iron Maiden.
I said Hell Yeah!!
This time around though I was going to take a different approach so it wouldn't  just be like here's two guys looking to start a tribute. We agreed to put ads out stating Iron Maiden Tribute holding auditions. My cousin owns an old school building and he was fine with us using the big room on the third floor which was great but there's a lot of steps on the way to the top. To make a long story a little shorter we had a few people show up for the first audition. From this first audition we landed our Steve Harris other wise known as Tim Frederick. Right away we knew this was the guy. Totally a no-brainer but we had to honor everyone's request to try out. We actually had a handful of bass players and about ten drummers that wanted to be a part of this band. Our biggest issue was trying to find a second guitarist. Can't have an Iron Maiden tribute without at least two. Our worries about the second guitarist were over after Darren and I went to one a few mobile auditions we had set up. By mobile audition I mean we went to jam with other people at there places of practice.  Anyway, when we jammed with Shaun McConnell  (Drummer) and Jim Carsone (Guitar) we also new these were the guys to complete the line up. We cranked out about twenty songs from memory and thought yep this is it. Once again we had to give every one else a shot and it would be a week or two before we informed everyone of the official line up.
This was so exciting to finally have a complete band and we rehearsed for about six months before we played our first show. 
Our first show show was at a place called Fat Guys in Austintown,Ohio. There was so much anticipation in the air and the response to the invites to this show were through the roof. The music community in Youngstown,Ohio was ready for something new to the area that had the potential to be so Kick Ass. All we had to do was nail this show. I remember being quite nervous before hand which is nothing new for me. We were all chomping at the bit to get out and perform the songs of our Favorite Metal Band of All Time. I'll never forget when the band started playing Wickerman which was the first song of the night. When I came running out and instead of grabbing the wireless mic I dropped it before I even sang a note!! Thank God my brother Frank was standing right in front of me and he quickly picked the mic up and handed it back to me as if we rehearsed the whole thing,lol. It was perfect timing and I didn't miss a word. This is the primary reason why our promo video starts out as a slide show,lol.
We created quite a buzz with our first show and that was the plan. Since then we have played several amazing shows. It seems there a few people who are stunned as to how successful our shows have been. People have told me "I didn't realize how many people like Iron Maiden."  And that's the thing We love about Iron Maiden. They're huge because they've created a main stream outside of the main stream. 
Well I've babbled on long enough. If you enjoy reading The Butcher's Post you will definitely be hearing more about Edward Be Thy Name.